I recently received a message from one of my Facebook followers that Snapchat had plagiarised one of my videos to use as a selfie filter and he sent me a link to Metro, a daily London newspaper. Not long before this I had read an article about Snapchat trawling the net and stealing other people's ideas, some of which disappeared over night when the owners complained.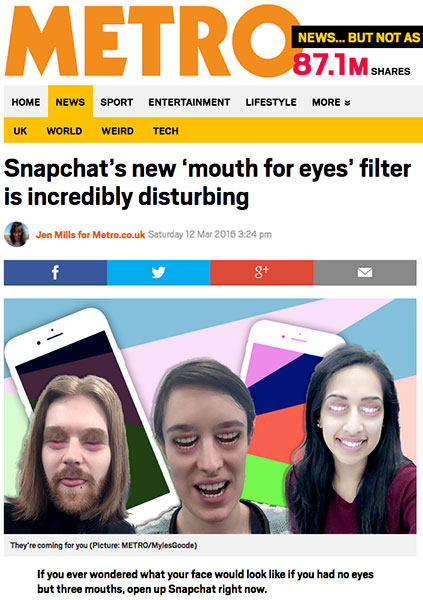 Metro article
In the November of 2010 I made a test for a short horror film I was planning of a woman with mouths for eyes. I sat a model down and had her pull a few faces for me then did the visual effects in After Effects which I taught myself enough of to believe I could pull it off. The result was so peculiar and humorous I thought I would upload it to Youtube. I named it Born With Three Mouths. A year later it went viral and I got about 7 million hits and got a lot of attention from it. I later went on to experiment with three more clips including an interview with a girl with a split tongue.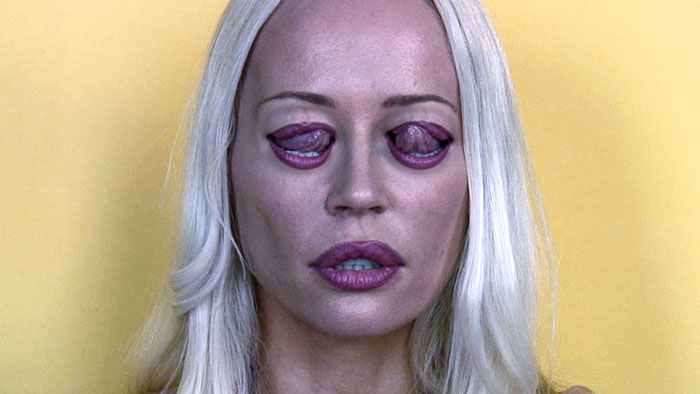 Orignal Born With Three Mouths
Since then I have had my work reflected back at me from surprising directions. I got messages from my followers on Facebook about two or three pop videos and other youtube videos that they thought were influenced my the work. One was Azealia Banks pop video, Yung Rapunxel, 2013. I also had other types of video pointed out to me.

Azealia Banks, Yung Rapunxel
While it is quite satisfying being influential, on the other hand it is quite frustrating to see one's work possibly turning into a meme without anybody knowing who the originator is. Back in June I read of Snapchat stealing the ideas of makeup artists, (not realising at the time I was also a victim) and several other cases, The Ringer did an in-depth report on it and there was also an article in the Metro.co.uk.

The Snapchat Bernadinian filter in action