Review of my work on the Barbra Picci blog.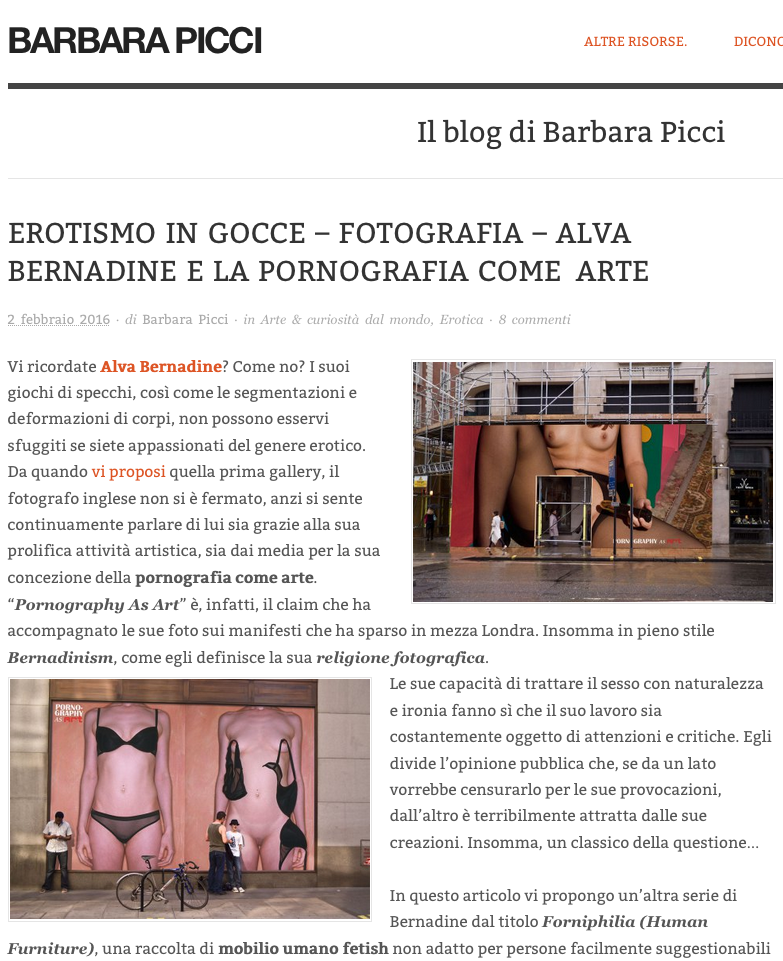 Google Translation:
barbarapicci.com
Eroticism in drops – Photography – Alva Bernadine and pornography as art
Barbara Picci
Alva Bernadine, Pornography As ArtVi remember Alva Bernadine? Of course? His mirror games, as well as segmentation and deformation of bodies, can not be escaped if you are fans of the erotic genre.
From when I suggested that first gallery, the British photographer has not stopped, it feels hard to continually talk about him is due to his prolific artistic activity, both by the media for his concept of pornography as art. "Pornography As Art" is, in fact, the slogan that accompanied his photos on the posters that spilled in half of London. So in style Bernadinism, as he calls his photographic religion.
Alva Bernadine, Pornography As ArtLe its ability to treat sex with naturalness and irony mean that his work is constantly the subject of attention and criticism. He divides the public that, while it would like to censure for his provocations, the other is terribly attracted by his creations. In short, a classic of the matter …
In this article I propose another set of Bernadine entitled human furniture (Human Furniture), a collection of fetish human furniture which are not suitable for people easily suggestible and / or moralizing by profession. Alva Bernadine – ForniphiliaIn effects, one of the characteristics of Bernadine it is the absolute ease with which mocks the limits conventionally recognized by society. However his actions are peppered with irony and provocation and what the discharge from liability of the case fading ethical considerations.
Of course the risk is to lead impersonality of pornography, in a vision of women as mere objects but as himself says Bernadine:
"If I had been afraid to give an alienated view of women, I would have done landscape photography. […] From Alva Bernadine – Forniphiliaquando I made my first fetish photography more than 25 years ago, I met many submissive women who call themselves feminists. Gender has no ideology, it is needless to say to someone who is not politically correct to be tied up and beaten or run away with the partner of someone else. If it gives them satisfaction they will. ".
Simply put Bernadine chose the photograph porno-erotic and uses it to tell the sex truthfully, without filters. He delves into the human mind and takes out the kinks in a completely faithful.
Of course, his art is controversial and disturbing, you may like or offend. It depends on how much you are willing to break down the barriers of murky morality. If it is your case I recommend the gallery, otherwise ditto.
Good vision!